CSM – Certified Scrum Master Certification Training
We have starting CSM | Certified Scrum Master Training batches with Classroom as well as VIRTUAL CLASSROOM [ZOOM CALL].
Call us to on 7710033016 or 8291749529 to know more
CSM | Certified Scrum Master Certification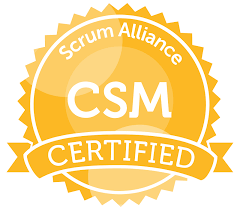 A Scrum Master helps Scrum Team to work together to learn and implement Scrum. Along with the Product Owner, he/she works to protect Scrum team from both internal and external distractions. He is lifeline of a Agile Project.
The CSM | Certified Scrum Master course helps you learn the Scrum framework and gain an understanding of team roles, events, and artifacts in an Agile / Scrum Project.
Click here to Know More about CSM Certification
To gain CSM certification from Scrum Alliance you need to complete below REQUIREMENTS:
Attend 16-hour Classroom course taught by our Certified Scrum Trainer® (CST®), Amit Kulkarni
After successfully completing the course, you will need to take the 50 question CSM test and answer 37 out of the 50 questions correctly within the 60 minute time limit
After you pass the CSM test, you will be asked to accept the CSM License Agreement and complete your Scrum Alliance membership profile
Here is our Schedule for CSM certification Classes:
What do you Learn and Get with the course:
Two days Classroom Training with certified Trainer Mr Amit Kulkarni
CSM Certification Exam with Two attempts
Online preparatory video by Amit on Scrum
16 PDU's / SEU's
Two year membership with Scrum Alliance
Virtual Classroom Training on DevOps Fundamentals covering JIRA and MS Project for you to start using Scrum and start learning DevOps tools to be used during the Sprint Work
Lifetime faculty support from Amit Kulkarni in Thane (Mumbai) office or on phone
Participant workbook authored by Mr. Amit Kulkarni.
Online self learning Agile course which includes topics "Beyond Scrum" such as tools, techniques
About the free DevOps Fundamentals Course included with CSM Certification Training
DevOps is a combination of culture, tools and techniques to be used during your Sprint work in Scrum. Our CSM classroom is augmented with a free virtual classroom training of one day on Fundamentals of DevOps. DevOps Fundamentals course includes introduction to various tools and techniques such as JIRA, Jenkins and other Continuous Integration and Continuous Delivery aspects. The intention of this course is to help you get started with the new fascinating world of DevOps and augment your Scrum knowledge as soon as you complete your CSM | Certified Scrum Master Certification.
About your faculty – Amit Kulkarni
CSM | Certified Scrum Master Training (Mumbai, Pune, Kolkatta, Delhi, Bangalore) is conducted by the famous faculty Mr. Amit Kulkarni. Amit has 22+ years of experience in IT field and has conducted more than 100 training workshops on agile alone. Amit's Scrum Master Training focuses on learning rather than just a certification. Amit conducts various exercises, conducts games and makes the class very interesting.
Here are some sample videos of Amit Kulkarni in action during the class
Story Telling Technique used by Amit Kulkarni to explain difficult concepts
Gaming Techniques used by Amit Kulkarni to make difficult concepts easy
Participant Feed backs
Click here to know more about Product Owner Certification (CSPO)