CSPO – Certified Scrum Product Owner Certification Training
We have starting CSPO | Certified Scrum Product Owner Certification batches with Classroom as well as VIRTUAL CLASSROOM [ZOOM CALL].
Call us to on 7710033016 or 8291749529 to know more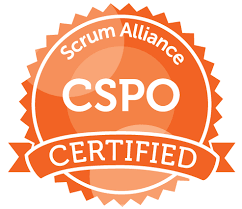 A Product Owner is the one who creates and maintains the product vision, Maintains the Product Backlog, and ensures that the best possible job is done to satisfy the customer.
To gain CSPO certification from Scrum Alliance you need to complete below REQUIREMENTS
Attend 16-hour course taught by our Certified Scrum Trainer® (CST®), Mr Amit Kulkarni.
After successfully completing the course, you will be asked to accept the CSPO License Agreement and complete your Scrum Alliance membership profile.
CSPO | Certified Scrum Product Owner Training Deliverables
Two days Classroom Training with CSPO Certification
Lifetime faculty support from Amit Kulkarni in Thane (Mumbai) office or on phone
Participant workbook
Online preparatory video by Amit on Scrum
Online self learning Agile course which includes topics "Beyond Scrum" such as tools, techniques, User Story writing etc
Below is our schedule for CSPO Training at Thane
Our Differentiators:
Case Study Approach :A case study is run throughout the workshop and the participants are made aware of the various steps to finally get the product backlog ready. From Strategy to Tactical :PO role is Strategic as well as Tactical. Amit's PO workshop consists of right blend of Tactical responsibilities and Strategic responsibilities. Amit gets all the Tactical and strategic elements practiced from the participants.
Tactical responsibilities include User Story writing, acceptance criteria writing, requirements elicitation techniques etc
Strategic responsibilities include Product Visioning techniques, Product Strategy writing, Product Roadmap creation and Release Planning.
About Faculty Amit Kulkarni
CSPO | Certified Scrum Product Owner Training (Mumbai, Pune, Kolkata, Delhi, Bangalore, Hyderabad) is conducted by the famous faculty Mr. Amit Kulkarni. Amit has 22+ years of experience in IT field and has conducted more than 100 training workshops on agile alone. Amit's CSPO Training focuses on learning rather than just a certification. Amit conducts various exercises, conducts games and makes the class very interesting.
Drawing Technique used by Amit to make visual representations which participants can remember
Story Telling Technique used by Amit Kulkarni to explain difficult concepts